AbStar Fitness Products
Strengthen Your Core and More
AbStar AIR Core Fitness Trainer
Improve Your Strength, Stamina and Balance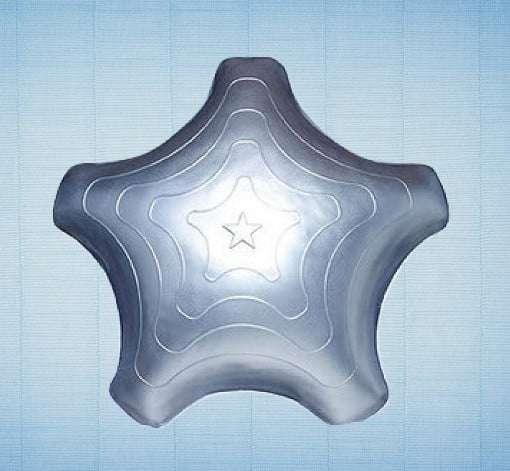 The inflatable AbStar AIR's unique, patented rounded-star design offers a safe, unstable exercise surface for the most efficient exercising, as well as multiple hold positions for versatile bodyweight and resistance exercise options. It's great for core training, total body circuit training, body balance, physical therapy, stretching and strength, and even water workouts.
With its low-rise and compact size, the AbStar AIR ensures you stay in the most effective positions for ab crunches, back extensions, side bends, planks and more, so you can best achieve your fitness goals.
Anti-burst with a 400 lb. rating and no moving or metal parts, it's effective and safe. Just pump it up and start benefiting from its use. Each purchase from this site includes a printed exercise guide, plastic hand pump with needle, and free online exercise videos.
We're proud and happy to introduce our new fitness model, Nichole Mellison. Nichole graces these web pages with her skill and talent as she demonstrates great core exercises with the patented AbStar AIR Core Fitness Trainer. Thank you, Nichole!
Watch the video below and see how you can exercise more effectively while saving time.
Pictured are just a few of the scores of standing, seated and reclining exercises you can perform with your AbStar AIR Core Fitness Trainer. Add instability to your workouts to help you improve body balance and core strength. Squeeze the AbStar AIR with your hands or legs and it will resist your force to help you build muscle and improve stamina. Perfect for beginners and advanced exercisers alike.
Reviews
"LOVE my new Abstar Air!! It's the first time I have enjoyed doing abs in my workout. Soooo much better than a ball, or working just off of the floor. Gives just enough back support and still works out abs thoroughly. Also great for inner thigh squeezes and the lat pulldown position gives you stability while maintaining a great stretch."
"I was pleasantly surprised with how simple and easy to use this product is. I definitely feel like I'm getting a solid workout with very little stress and it does feel very stable, too. A smart buy if you're looking to get in shape or maintain good fitness."
"My friend has one of these AbStar AIRs and I've been looking for them everywhere…but I didn't know the name of them! Now I've found them and I'm going to order one immediately! I definitely got the best ab workout than from any other inflatable device. I love that it doesn't roll out from under you and it's really easy to get and keep your balance on this core fitness trainer, unlike the large round balls that I spent more time balancing on than actually working out on. I spend a lot less time getting a killer workout!"